Premium
Prints & Artwork
Our family portraits and photos of ourselves truly deserve to be printed, showcased and shared.
We've sourced top printing suppliers globally, and have designed collections of artwork to turn your house into a home.
It's our goal to deliver stunning images that will look beautiful in your home. We understand that everyone has their own unique desires for the outcome of their family portrait session, and that's why we work with you to create your dream artwork.
Most families invest between $500-$3500 on their final family portraits, however, there is no minimum spend and we have plenty of options to suit all budgets. You can even chat with us about payment plans too!
Have a read of our investment guide below, and check out the types of artwork we create for our clients.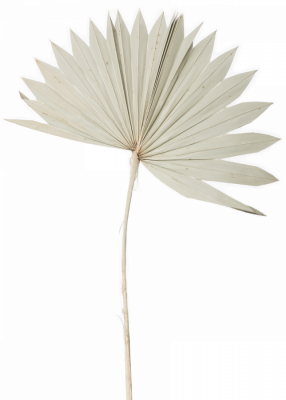 Something to Stand Out
Wall Art
Displaying family portraits and photos of our children increases self-esteem while creating a unique environment that is welcoming, loving and uniquely yours.
Find the perfect style for your home from our range of ready-to-hang options. Select from luxury wood, canvas, framed, acrylic or metal products.
We believe art on your wall deserves to stand out (and not be lost!). That's why we recommend a size of 16×20″ (40x50cm) and above.
Wall Art pricing starts at $395 for an 8x12" piece and up to $1995 for a 40x60" piece. All wall art pieces and collections come with their matching digital file for social media sharing.
If you'd like multiple pieces of wall art for a beautiful arrangement of family portraits on your wall, click below to see our wall collections...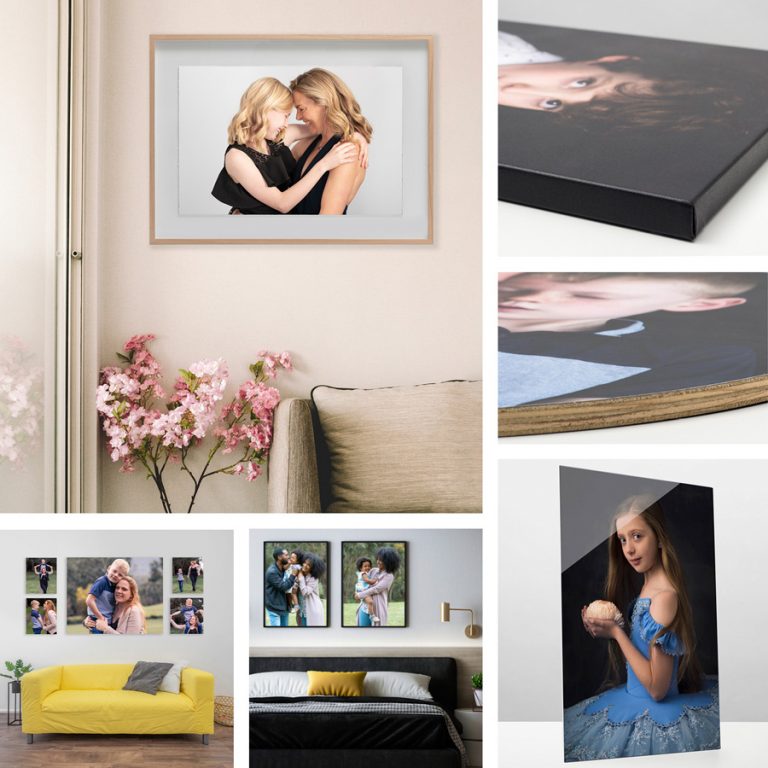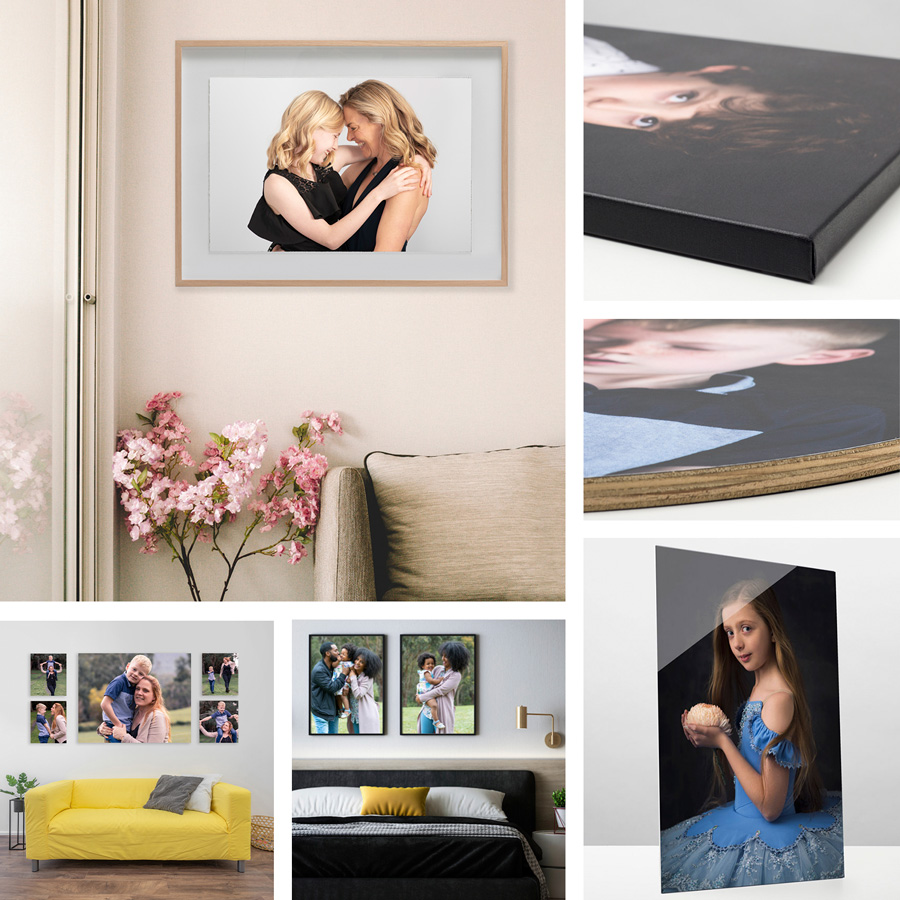 Something To Collect
Portrait Boxes
Presented as a stunning keepsake, heirloom portrait boxes are a beautiful way to treasure a range of prints from your family portrait of fine art session.
Choose from 10, 15 or 20 pearl lustre prints at an 8×10″ size. We offer two boxes to choose from: a keepsake portrait box with 10 or 15 images, and a bespoke portrait with 20 images box. The Bespoke box has a glass window and can sit upright (horizontally or vertically), and act as a frame for your prints.
The Portrait Box Collections start at $995 with 10 matted prints in our keepsake box.
All portrait boxes come with digital files for social media sharing.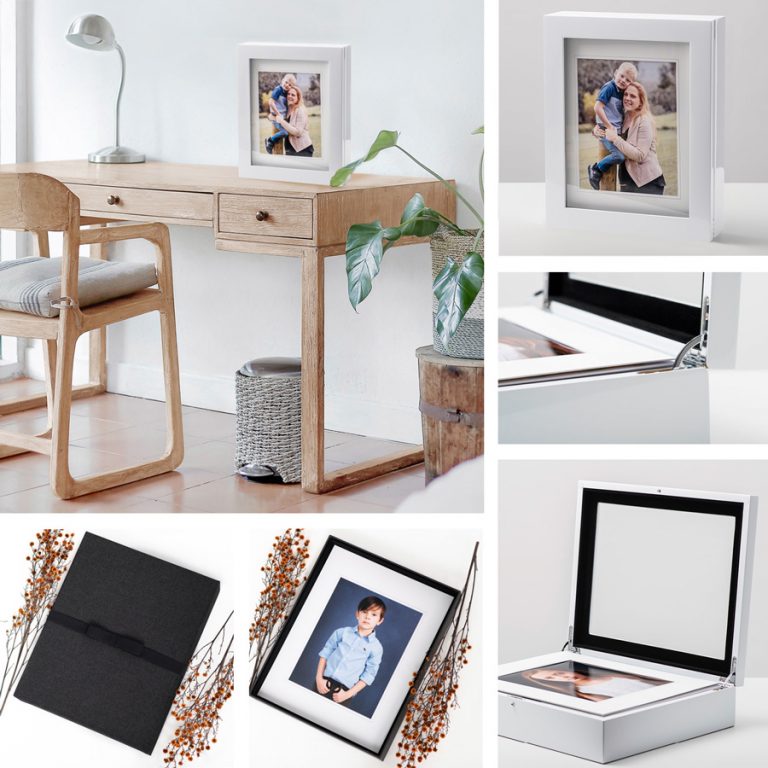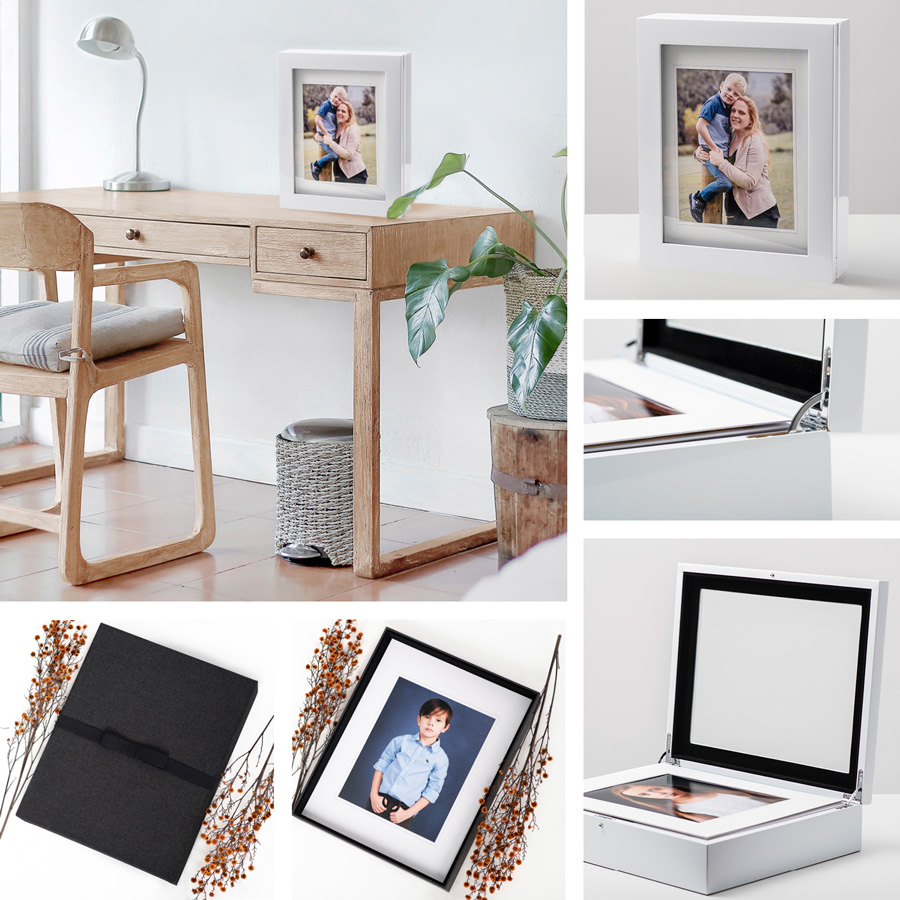 Something to tell a story
Albums
A beautiful story to keep for a lifetime. Printed by worldwide leaders in bespoke albums, exclusive to professional photographers, our fine art albums are absolutely stunning.
Our keepsake album is sized at 10x10", with a printed cover and velvety finish, you'll notice the rich colours and premium quality of the print.
For a luxury touch, we offer our premium bespoke album with a leather wraparound cover and front embossing, at a larger 12x12" size. You can select your album cover material and colour from our studio swatch box, and choose on your own embossing words too.
Albums start at $995 with 10 images in our keepsake album range. All albums come with digital files for social media sharing.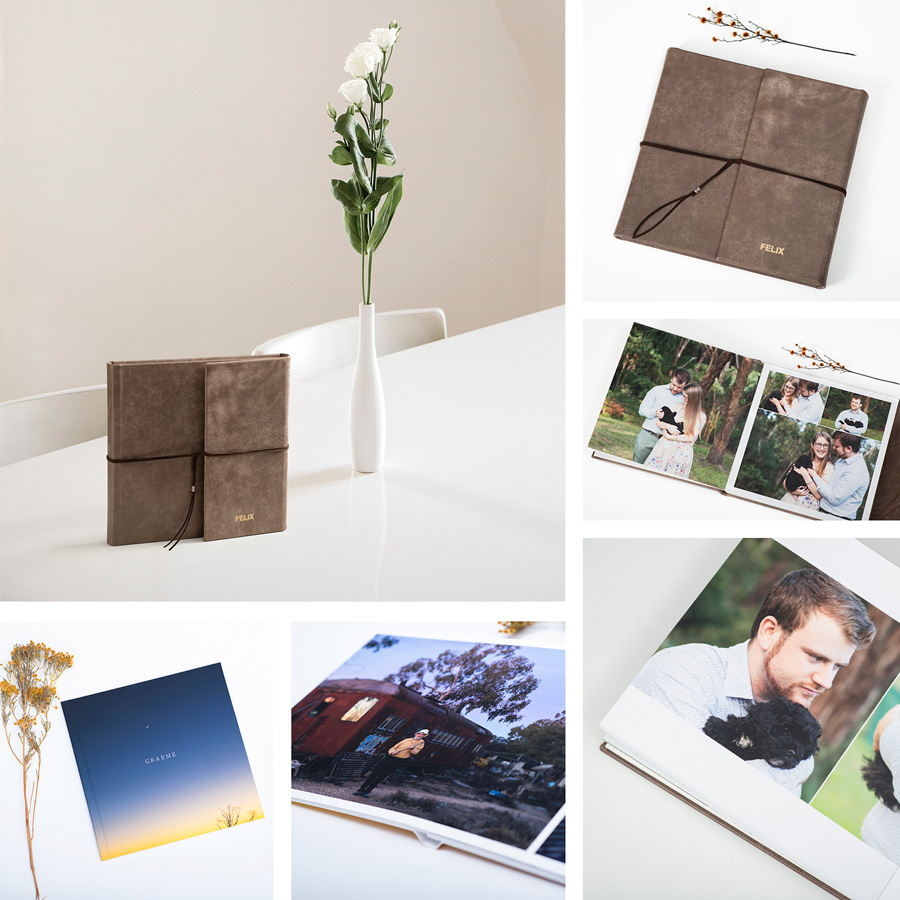 Something Small
Desk Prints
For a feature on your tabletops, desks, and dressers. Our Acrylic Block desk prints are a stunning feature that become a talking point.
Acrylic blocks are a beautiful, polished tabletop artwork that give a three-dimensional effect with beautiful mirrored edges.
Desk prints are a great option if you don't have any hanging space in your home or office but still want a statement piece. They also make for great gifts.
Desk prints range from 5×7″ up to 12×12″, and pricing ranges from $195-$395.
All acrylic blocks come with matching digital files.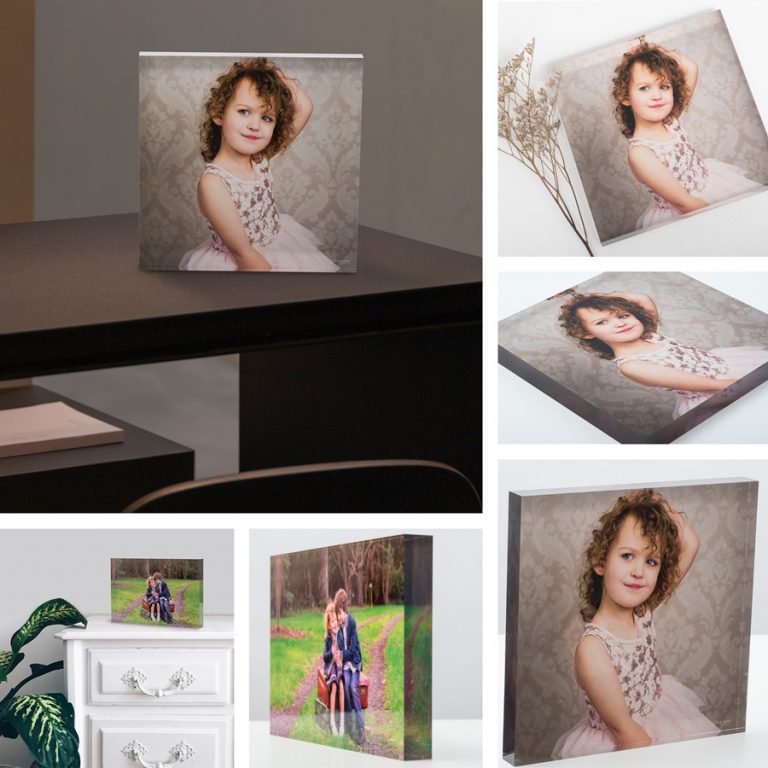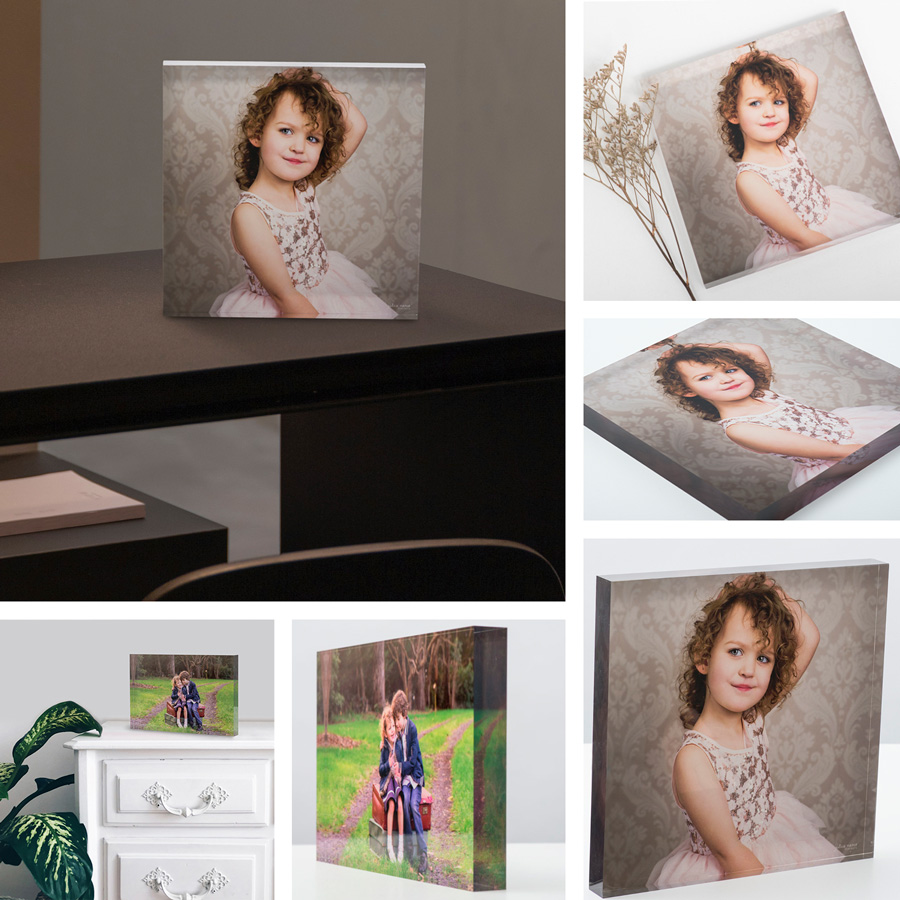 Something to Give
Matted Prints & Portrait Duos
Matted prints are easy to frame yourself or display on mini easels for a tabletop display. They make perfect gifts to grandparents and relatives. Our prints are beautifully printed on lustre paper and have a smooth, pearl finish.
Our portrait duo folders feature two 5x7" matted prints with a linen cover. This is a perfect finished product, ready to display or carry in your handbag.
Matted prints are 8×10″ (photo size), with an external mat size to 11×14″, and are priced at $125 each.
Portrait duos hold two 5x8" prints, and are priced at $195 (or two for $295).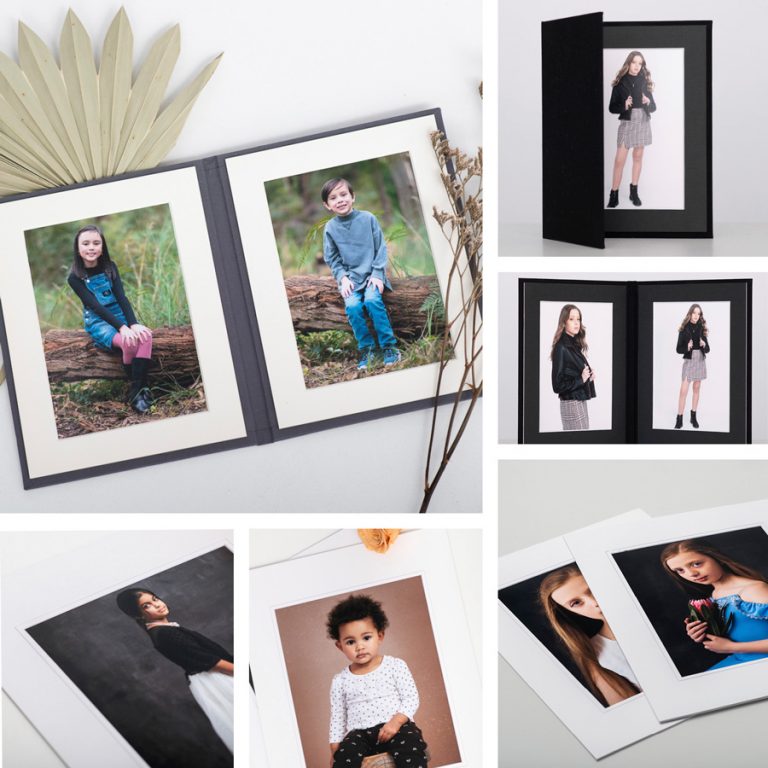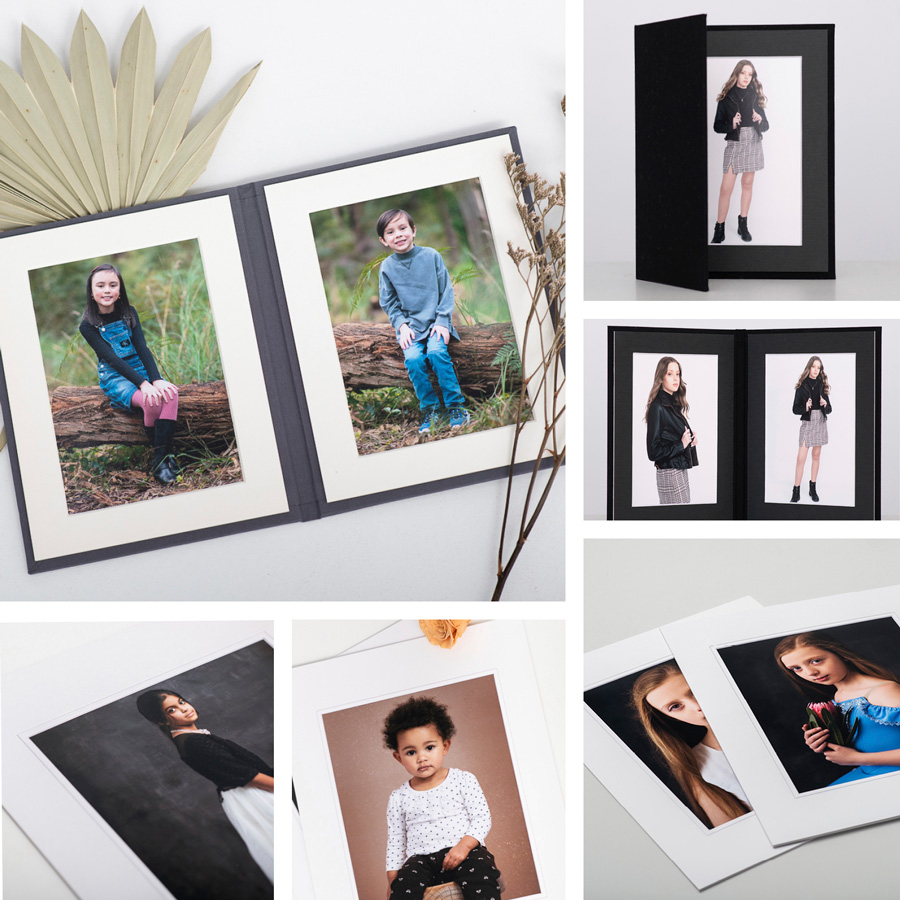 Your artwork is something you'll get to adore every single day.
Plus, portraits make for such special and thoughful gifts too!
Create your dream collection with an interest-free payment plan from Afterpay or Payright.
Learn more here.