Lifestyle
Family Portraits
In Melbourne's Eastern Suburbs
Lifestyle Family Portraits
It's time to get beautiful, natural family portraits that showcase your family bond.
Our outdoor lifestyle family portrait sessions are focused on families of all ages. With our unique landscape in the eastern suburbs of Melbourne, these lifestyle sessions are a beautiful way to capture the bond of your family together in a relaxed, candid and genuine way.
Family lifestyle sessions are adventurous in nature, and based at our studio in Lilydale – Melbourne's eastern suburbs. With 10 acres of paddocks, bushland and native gardens to explore, we'll create a series of family portraits capturing a mix of candid and posed images that you'll truly love. Ditch the heels and wear something suitable for walking!
Our family portraits combine a mix of candid captures and posed family shots. It's the perfect way to spend an afternoon together to tell your family story.
Your Lifestyle Family Portrait Session:
> Your very own style and concept consultation held in your home, at our studio, or via zoom.
> A fun, adventurous outdoor family portrait session at the 10 acres around our Lilydale Studio.
> A cinematic viewing and design appointment on our projector at the studio.
> One 8×10″ matted portrait and matching social media sized digital file (valued at $125).
Session Fee: $200
Additional printed portraits start at $125.
Wall art starts from $395. 
Wall collections, albums and portrait boxes start from $995.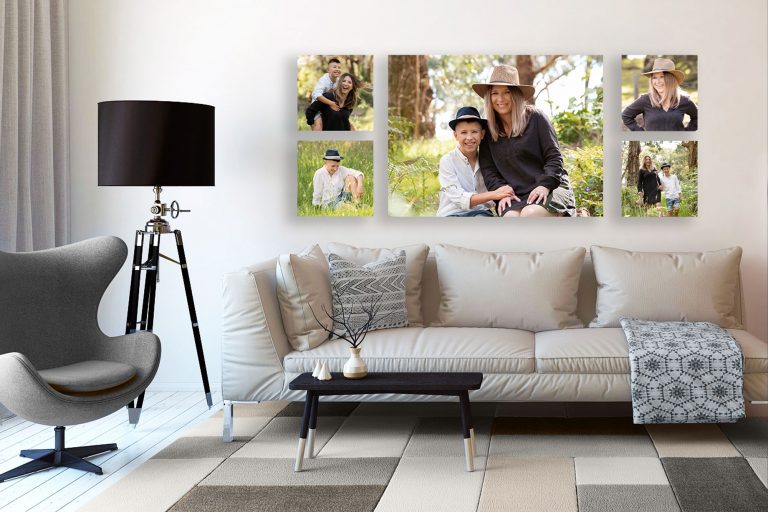 Put your family portraits on display
We Offer Premium Artwork
At Julia Nance Portraits we're big believers in doing more with your portraits than just handing them over on a USB.
With your beautiful family portraits, we will discover ways to showcase and display them in your home. We have artwork options to suit all budgets, which ranges from stunning wall art to albums and portrait box collections. We also have a range of smaller desk prints too.
Don't worry, all of our printed products come with matching digital files for online sharing too!
Our 5 step family portrait process
Step 1
Book your session in online or contact us.
For our outdoor family portrait sessions we love early mornings and afternoons to take advantage of that beautiful natural light. 
Once you're booked in, we'll arrange a time for your complimentary consultation.
Step 2
Your Style & Concept Consultation.
Every experience starts with an in-home (or skype) consultation. 
We'll go through everything from outfits, colours, and styles to suit your home. We will discuss all of the shots you'd love to capture of your family and start to get to know each other.
Step 3
Your Session!
It's time to visit our studio in Lilydale, Victoria – in Melbourne's eastern suburbs. In this time we'll go on an adventure in our natural Australian landscape and capture some truly beautiful images of your family. 
Step 4
Order Your Images At The Cinematic Viewing & Design Appointment.
2 weeks after your photoshoot, you'll be invited back to the studio for your very own cinematic viewing experience to view your new family portraits over some refreshments. 
It's at this stage we'll advise you on how to best display your family portrait photographs.
Step 5
Delivery of your artwork!
Once your artwork has gone through our retouching and production process, we'll contact you to arrange a time for artwork delivery. Your family portraits will be proudly displayed in your home in no time!
Watch our video below to learn more about our portrait experiences