Family Portrait Print Feature:
Canvas Prints
Canvas prints are ever-popular – and we've sourced the best in Australia.
Traditional and timeless, canvas prints date back to painted portraiture, and remain a classic option for your family portraits.
There are several benefits to canvas art. Our supplier uses premium hardwood timber for the internal frame. It's a little heavier than the cheaper alternative (balsa wood), but the benefit of hardwood is its durability over time. Cheaper materials will warp and skew over time, particularly with changing temperatures we have in Melbourne. Our hardwood frames won't buckle, bend or warp over time – leaving your print stretched and springy, rather than skewed and saggy.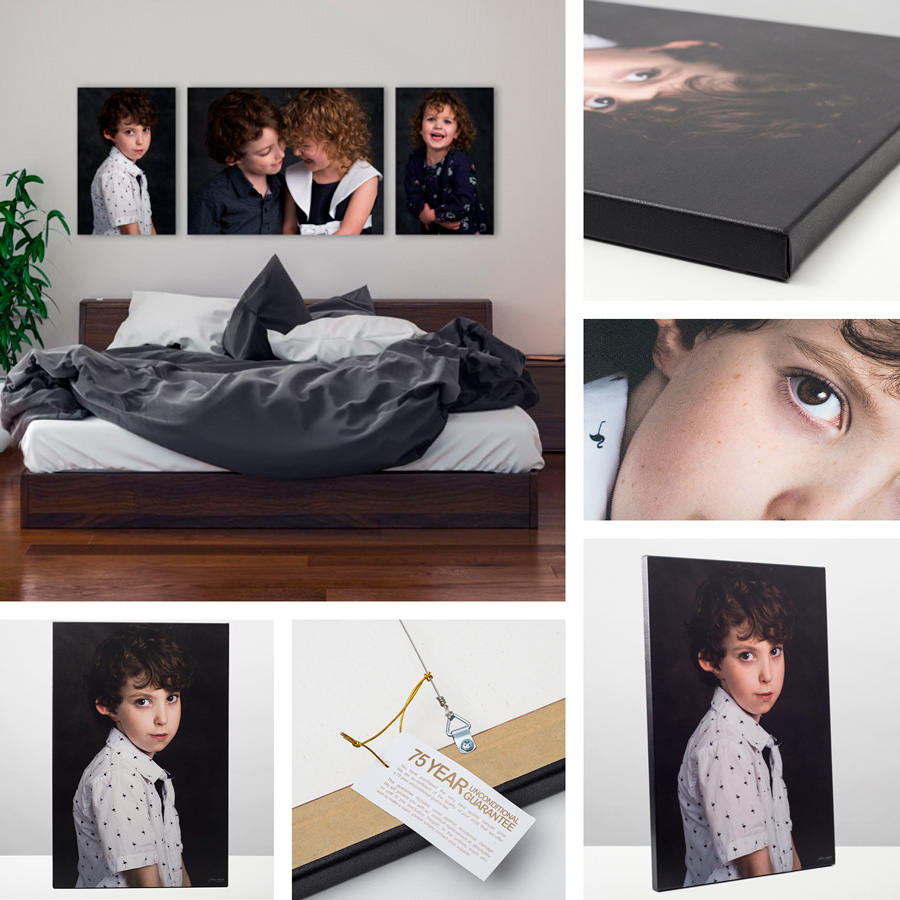 The canvas material itself is thick and durable. It's designed to last for years, and when printed with archival ink it does just that.
Not only is your print printed with archival inks, but the final product is sprayed with a matte laminate to protect from UV rays and prevent fading. 
What is also great with our canvas range is the optional frame. You can choose to have a frameless option or one of three frame colours (white, black or oak).
Size Options for Canvas Art:
Your family portraits can be enlarged to a range of sizes as canvas art. Choose from square or rectangular shapes, ranging from mini 8×12″ to majestic 40×60″. 
Framed canvases will be a little larger than the print size, of course.
Canvas Wall Collections:
Canvas prints look great in a collection. The most popular canvas collections are the Banksia (below), or the Daffodil.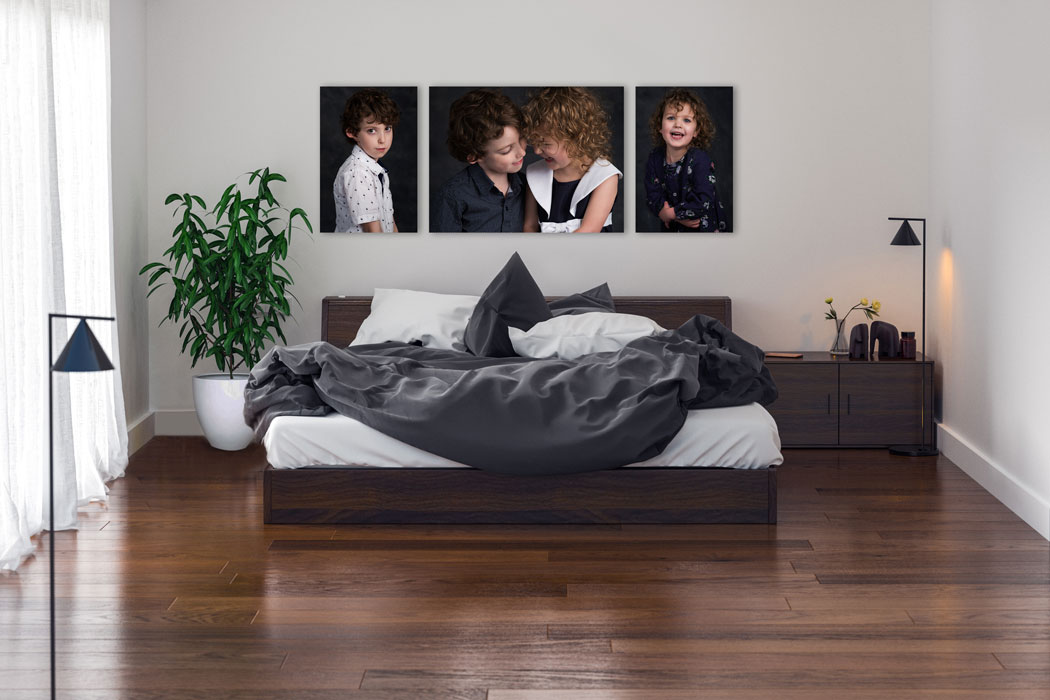 Our Banksia collection showcases three prints. The larger middle print can be horizontal rectangular or a square.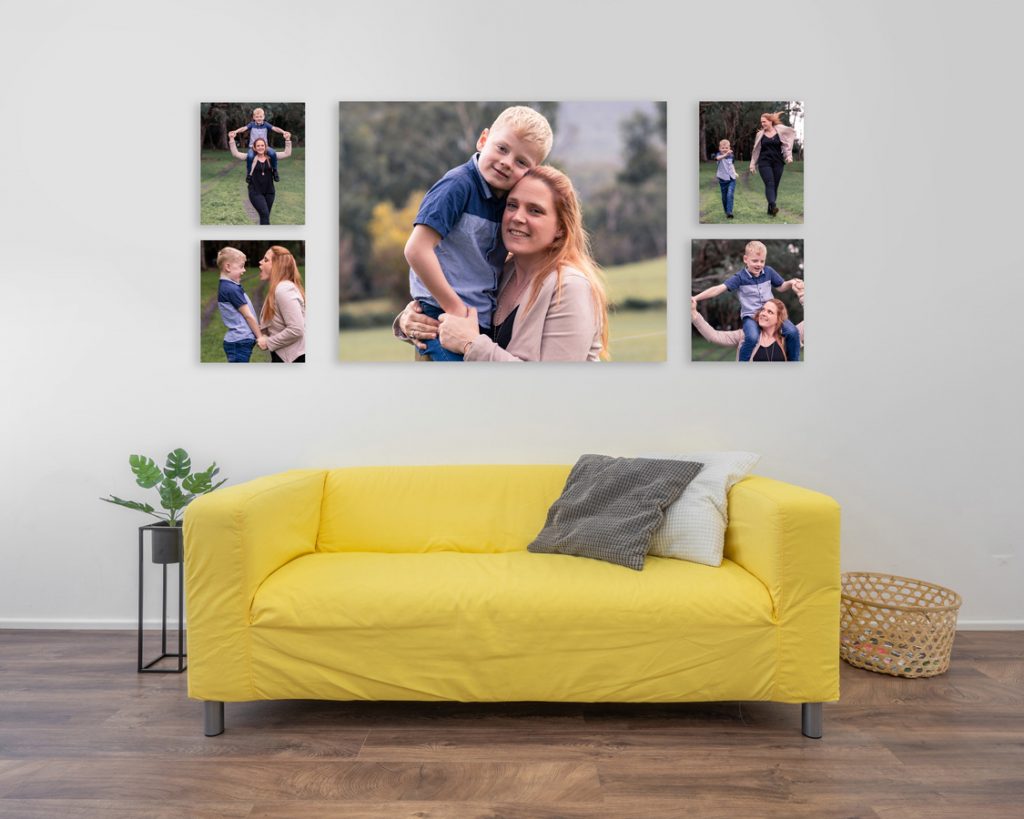 The Daffodil collection is a showcase of five prints. The centrepiece is a showstopper, while four supporting images sit around the outside. This design is great for family portraits, as it can show off your family in the centre, and feature smaller groups or individuals around the outside.
You can also customise the Blossom collection with a canvas finish in three different size options. 
Different Ways To Display Your Canvas Prints:
The versatility of canvas prints is what makes them so great.
They'll look fantastic as a small set of three in a vertical collection if you've only got a narrow space. Our Blossom collection allows for square or rectangle pieces as a collection of three.
For frameless, they'll allow you to change your furniture, your home, your wall colours and still look in place. A large 40×60″ canvas or one of our grand Daffodil collections are perfect for above your couch or dining table.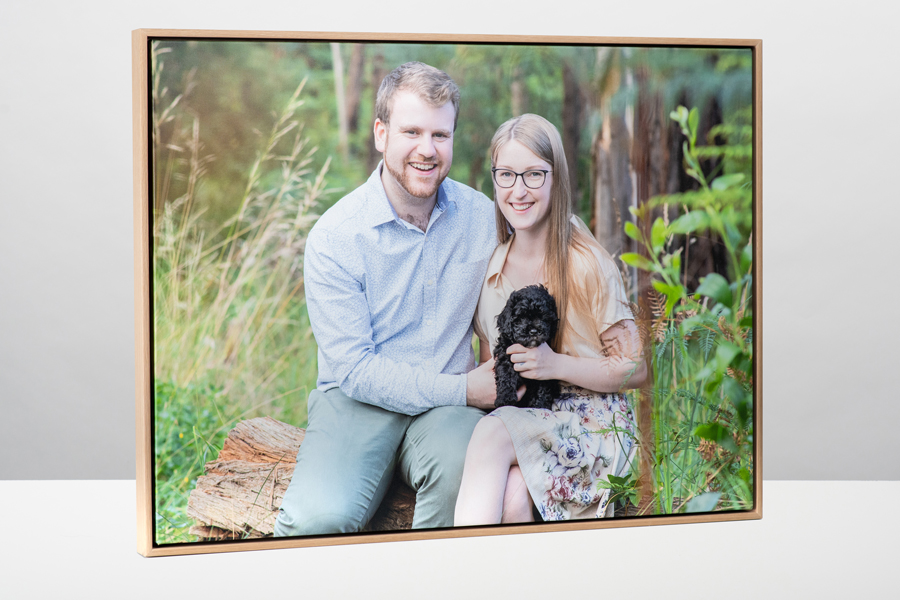 Here's a photo of a framed canvas I got for my own home! I really loved how the frame completed this image and tied into the earthy tones in the landscape of the image. Pictured is a 30×40″ canvas with an oak frame.
---