Capturing Fine Art Portraits with Monet & Wilkie
Sibling Love
Monet and Wilkie are two siblings with an amazing bond. You can really see how much they adore each other, and witnessing their sibling love in our fine art photoshoot session was really quite amazing.
What was extra special about these two was their natural tendencies to support each other. Encouraging words, smiles and making each other laugh. While Monet was a little bit unsure at first about having all the attention on her during the photoshoot, Wilkie was quick to offer words of support. It was really quite special.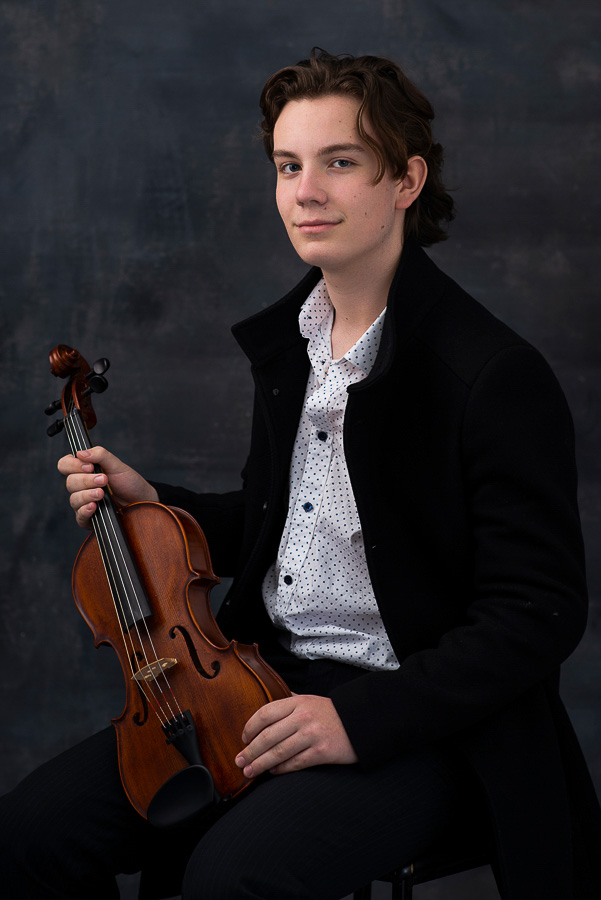 Wilkie
Wilkie is in his teens, and was great. With some shirts and a swift jacket from his Dad, he immediately looked completely grown up. His maturity and openness really shone through in his images.
As a musician, Wilkie brought along his violin to include in his images too. Bringing along personal items always helps to create an impactful portrait. It adds a beautiful touch and point of uniqueness. The violin to Wilkie at this stage in his life will be remembered forever with these photographs.
With a darker background in these shots, I feel there's a level of sophistication. It reminds me of older-style painted portraits, with a touch of class.
The tones in this image are a little darker and moodier, and give that grown up feeling.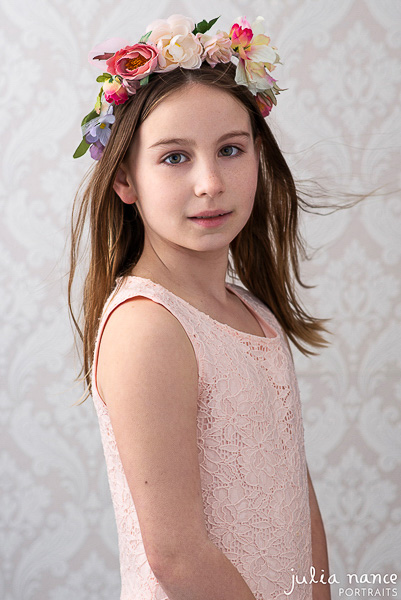 Monet
Monet is a few years younger than Wilkie. She's absolutely gorgeous, and we found a few items in the studio wardrobe that she could wear as well.
The pink lace dress looked beautiful on her, and we had a lot of fun with a flower crown and a bit of wind through her hair as well.
For a lighter and brighter feel, the wallpaper backdrop tied in perfectly. The tones were kept soft, earthy and alive.
Monet really nailed the soft expressions too. There's a real sense of innocence and wonder coming through her eyes.
Final Images
We always capture a lot in these fine art children's sessions. These portraits will be timeless, and they freeze a moment in time for these two that they'll look back on and cherish.
These two now have beautiful artwork in their home (and, in their grandparent's home too!). Their Dad fell in love with the image of them together below and ordered two canvases for his home and his parents' home too!
To read about our fine art portrait experiences, click here.