Styling photos in your home – How to display your family photos
We've established the reasons why you should display your family photos but there are some big decisions on how you should display them. Every home is different, and what works for one family might not work for you.
There are lots of options when it comes to styling your family photos in your home. From wall collections to smaller desk displays. Have a look at the different options below.
Thinking about colour:
You will also need to consider the colours and tones in your home. If it's bright, airy, white and earthy, you're going to want your images and presentation to reflect this. Either frameless pieces like canvas, acrylic and metal to transition into your space, or lighter works like a white or oak frame, or even a wood print which has that earthy, oak-toned edge.
It is ideal to make sure the images themselves reflect your style, and this is definitely something to discuss with your photographer straight up! The portraits themselves should have complimenting tones and colours to that of your home.
A collection of images telling a story:
If you've got a large wall space, there's a great opportunity to tell the story of your family with a wall collection. Think about the spaces you'll get to see daily – as these are images you're not going to want to hide away.
Some common spots are above a couch, bed or buffet. Balance the size of your work to fit nicely in the space. You'll want a bigger collection to suit a large wall. If you've only got a smaller space, you'll need to reduce the size of your prints too.
Small pieces for the corners of your home:
If you're out of wall space, then I can relate. I love art so much, that I just can't seem to fit as much in as I would like to.
No fear! There are plenty of ways you can display your photographs without needing to attach them to your walls. Subtle ways to incorporate photography throughout your home are through freestanding desk prints and portrait display boxes.
The desk prints can come in small (5×7″) sizes, right up to larger 12×12″ sizes for more of a feature. Depending on your space, you'll be able to pick an option that is either subtle or makes a statement.
The acrylic blocks have a high gloss, almost glass-like appearance. The wooden blocks are soft, earthy and matte. It all depends on your style in your home. Again, thinking about colour is important too.
Single feature artwork on smaller walls:
Even if you don't have huge walls to display images on, don't dismiss the idea of printing a lovely wall piece for your home. Single images can become a feature in your home, in the smaller spaces and in-between areas.
Look at the blank areas in your home. It could be a small area between two windows or two doors. The end of a corridor, or the space next to a wall heater.
Measure your space, and find a size that will give a good balance to the area. Think about the shape and orientation too. You can go for a feature shape (like a circle) as a point of difference. If your space is tall and narrow, pick a portrait orientation. If it's a little bit wider, but not wide enough for multiple pieces, you can go for something horizontal.
An album ready to be picked up and looked through by your guests: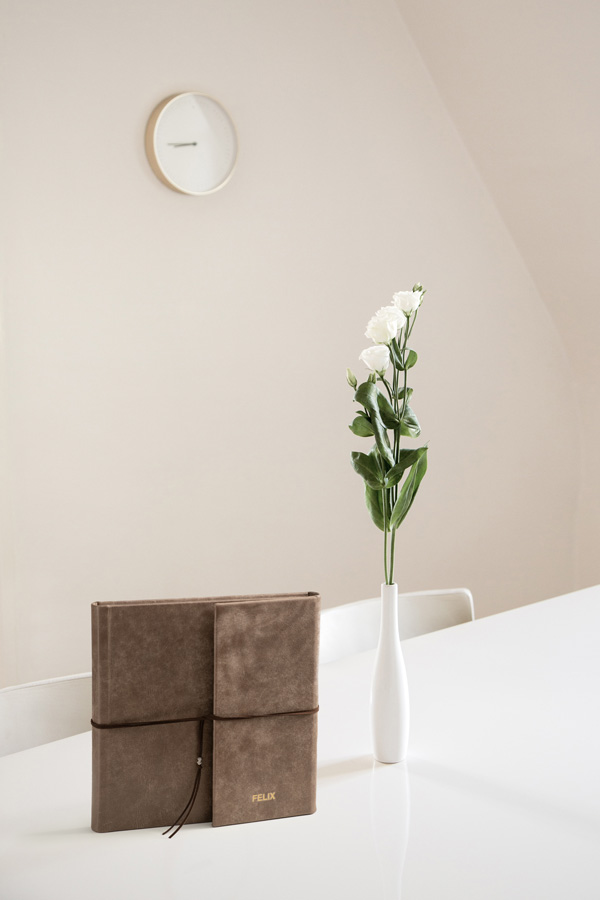 Again, if you don't want to display your images on your walls, or just don't have space, an alternative is a fine art portrait album.
A fine art album allows you to tell a story. It will take you on a journey back through your photoshoot and showcase a collection of your favourite images.
Albums give you an opportunity to sit down together and go through the images. It's an opportunity to spend time together. It allows your guests to flip through your gorgeous images when they visit.
Think outside the box: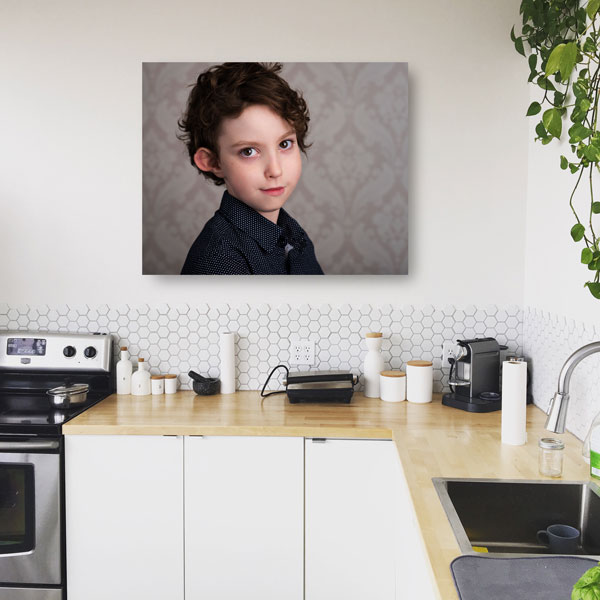 Your photos don't always have to be placed in traditional rooms. It's popular to display photos in your main living areas, dining areas and bedrooms. However, you can look at other rooms to display your work.
For example, your kitchen, bathroom or walk-in wardrobe if you have space. Or in your home office feature with images above your desks, bookshelves and filing cabinets.
If you visit a room regularly (like your kitchen and bathroom), why not display your images in these areas too?